We Rise Up for Parks and Recreation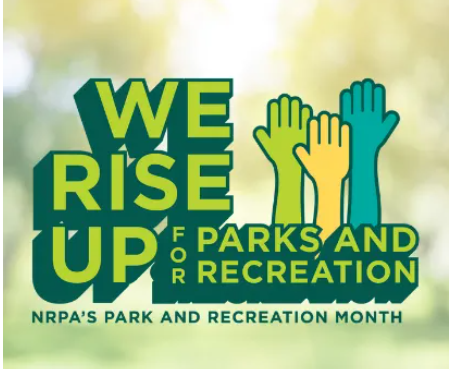 July is Park and Recreation Month as deemed by the National Recreation and Park Association (NRPA). The focus is to promote the power of parks and recreation as they help build strong, resilient communities. Each July, NRPA welcomes a theme to aid in promoting parks and recreational benefits. This year's theme, We Rise Up for Parks and Recreation, highlights the importance of parks and recreation professionals throughout our country. Yes, the staff (volunteers, seasonal, part-timers, full-timers, and government) that keep our parks and recreational spaces clean and functional for visitors to create memories.
"Parks are at the center of so many experiences and memories - moments that park and recreation professionals help make happen. Our local parks are often our first experiences in nature, our introduction to a favorite hobby or physical activity. They are places to gather with friends and family, spaces to celebrate life's special moments, spots of respite and healing, sites that connect us with essential community services and so much more." - NRPA
Ohio County's Outdoor Offerings
Ohio County thanks its park and recreation professionals for allowing us to have multiple parks and recreational spaces that offer access to fishing, boating, rafting, off-roading, canoeing and more. As the World Capital of Bluegrass Music, naturally we offer concerts, festivals and events throughout the year. Ohio County State Park and our outdoor amphitheater, located in Beaver Dam, are attractions on their own.
Ohio County State Park
Just off Highway 69 in the city of Hartford are 500 acres known as Ohio County State Park offering many family friendly activities:
Picnic areas
Nature trails for hiking, horseback riding, bicycling and ATV enthusiasts
Golf courses
Playgrounds
Historical sites
Campgrounds
Sporting sections for volleyball, basketball, soccer, archery and so much more!
Ohio County State Park is your one-stop-shop for park and recreational activities. Activities are being curated for the summer. Check their Facebook page often for upcoming events.
Come Have a Dam Good Time
Beaver Dam Amphitheater is considered Western Kentucky's premier outdoor concert venue. With its 2,000 square foot stage, seating capacity of 5,000, excellent sound system and natural tree fence, it is the perfect recreation space to enjoy an outdoor concert or two. Visit Beaver Dam Amphitheater's Facebook page or website for the Dam events happening this summer.
During the summer, not too far away from the Dam amphitheater is Sounds on 2nd. Every Friday, residents and tourists alike are invited to enjoy free concerts, tailgate-style. Arrive in town early, visit one of the local restaurants, then find your spot on 2nd Street and enjoy!
More Parks & Recs
Being the birthplace of bluegrass music, we can't forget Rosine Community Park, located between Bill Monroe's Homeplace and Bill Monroe Museum. Make a day of visiting Bill Monroe's humble beginnings that led him to becoming the Father of Bluegrass music.
McHenry Community Park, Cromwell Park & Recreation, and Oldham Park are much smaller parks, yet perfect for small family gatherings or simply taking the pets out for a stroll.
When it comes to indoor fun and fitness, we have Ohio County's Family Wellness Center. This recreational facility is celebrating their 20th anniversary of "Keeping Ohio County Healthy!" Whether you're a member or not, you have access to a variety of activities to get the body moving and blood flowing. Family Wellness Center offers:
Junior olympic size pool
Expanded gym room
Indoor racquetball court
Aerobic studio
First class fitness room
Limited day care and so much more!
Check out their schedule and add them to your summer itinerary.