Bluegrass Crossings Business Centre is Ideally Located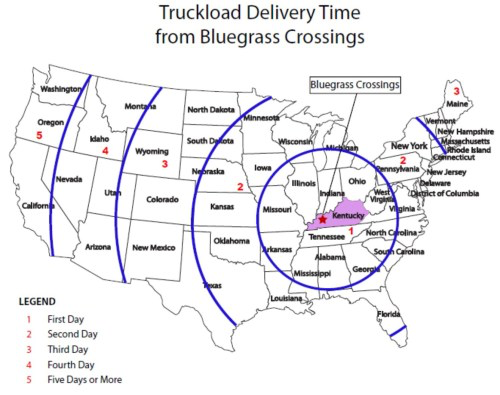 Located in Western Kentucky, the Bluegrass Crossings Business Centre is One of Kentucky's premier regional industrial parks. The park offers access to two interstate highways with linkage to I-64, I-65 and I-24. From the business park, companies can reach the majority of the U.S. population in under one day. Cities like Nashville, St. Louis and Chicago are only a few hours away!
The Ohio River and its Interconnected Inland Waterway System, with its centralized location in the lower Ohio River Valley, has a tradition of efficiency, versatility, and dependability. The Owensboro Riverport provides tremendous value-added service to numerous businesses worldwide. The port is strategically located on the Ohio River in Owensboro, Kentucky. It specializes in handling aluminum, steel, zinc, grain, fertilizer, steel tanks, equipment and other various bulk commodities. Both raw materials and finished products are handled each day utilizing over one million square feet of on-site warehouse space.
Infrastructure and Utilities 
Infrastructure is already in place at the park. Broadband is available at the site, making it ideal for companies with a national and global footprint who need to facilitate video conference calls and hold remote meetings. 
Kentucky industries have enjoyed some of the lowest rates in industrial electric power costs, ranking the 6th lowest in the nation. On average Kentucky utilities cost approximately 20% less than the national average.
Developers of the industrial park set up the infrastructure so each tenant of the Bluegrass Crossings Business Centre could customize utilities to their specific needs. All utilities are located underground. 
Support and Incentives are Available 
The OCEDA staff works directly with individual companies, consultants, and advisers to provide information and assistance to those interested in locating within the business park. We will work to ensure that your experience is quick, smooth, and enjoyable. Contact us to learn more about what the Bluegrass Crossings Business Centre has to offer.