The Home of Bluegrass Highlights Unique Retailers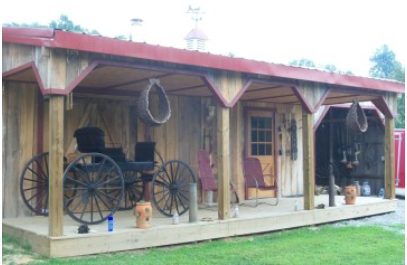 Retail is finding fresh new ways to capitalize in Ohio County, KY, the Home of Bluegrass. In addition to charming "Mom & Pop" shops, there are some unique offerings ranging from glass, wood, and ceramic arts, to gifts, and furniture. Let's take a look!
Creekshop Stained Glass & Artworks – Olaton, KY
Owners Linda and Glen House are the artists behind the glass, western wood, and metal artwork you'll find or request at Creekshop Stained Glass & Artworks. Linda, a long-time glass designer, and Glen, a lifelong horseman with a hobby for woodworking have been creating for years. Their works include:
Single Pane Windows
Picturesque stained glass
Stained glass guitars – one gifted to KY native & singer-songwriter, Loretta Lynn
Wood shelves with metal racks
Gunbelts, holsters
Saddle stands
Bookcases
… and the list goes on.
The options of creativity are relatively endless whether you are seeking Linda's glass stylings or Glen's wood & metal stylings. This is the house to bring your vision to life.
Claudia Overstreet & Co. – Hartford, KY - online store
She may be a Nashville girl, but Claudia Overstreet & Co. is teaching classes and creating vibrantly colored/textured ceramic art in our Bluegrass state. From pressed clay flowers to Bill Monroe mugs and more, Claudia's pottery hands are gems to the Home of Bluegrass's retailers.
Marti & Liz Shoes aka Beaver Dam Shoes – Beaver Dam, KY
In ever-changing times, it's satisfying to know some things haven't changed and Beaver Dam Shoes, as the locals call it, is one good old-fashioned shoe store. What started as Beaty Shoes in Beaver Dam has morphed into Marti & Liz Shoes with more than 15 locations between Kentucky, Tennessee, Georgia and North Carolina. Once you walk inside the Beaver Dam location, you embrace the beginnings and feel the history while purchasing discounted cozy kicks at the original store.
Rice's Gift Gallery - Beaver Dam, KY
There isn't much else to say about Rice's Gift Gallery that their website doesn't specifically state, "From markets around the country, we bring back unique finds to share with you so that your living spaces reflect your unique tastes." In addition to these rare finds you'll see in the store that is inside of a pharmacy, Rice's also offers interior design services. Their philosophy is simple, "Let us help you bring out the character that is uniquely you."
Soreheads Gifts & Sundries – Hartford, KY
Soreheads Gifts & Sundries offers a café and multi-purpose store combined.
The Café sells 11 different sandwiches, an entrée salad, and six side options. Sandwich names like Fancy Shmancy Grilled Cheese and Piggylicious are sure to grab your attention as well as wet your whistle to taste as you dine-in or grab and go:
Fancy Shmancy Grilled Cheese – American and provolone with bacon, blueberry bourbon jam, and jalapenos
Piggylicious – Pulled pork, bacon jam, cheese, spiced pickles, fried onions, and bacon aioli
The multi-purpose store sells a myriad of items in personal care, kitchen, clothing, children, and baby gifts making Soreheads a one-stop shopping experience.
Charlotte's Furniture & Fashion – Beaver Dam, KY
Whoever thought of adding fashion to a furniture store was a creative thinker indeed and that's what is offered at Charlotte's Furniture & Fashion. While Charlotte's is mostly a furniture store, you will find clothing and jewelry sprinkled amongst the layouts. If contemporary isn't the design you desire, stroll to the back and visit Charlotte's Warehouse where you will find, as the website mentions, "farmhouse, primitive, and industrial furniture style."
***
The Home of Bluegrass welcomes outside of the box visionaries who love to create and want to share their ideas and products. If you have a unique business plan, bring your business to Ohio County, Kentucky and join our Chamber of Commerce. Together we can, "Be a force for cooperative actions that enrich the quality of life in Ohio County."